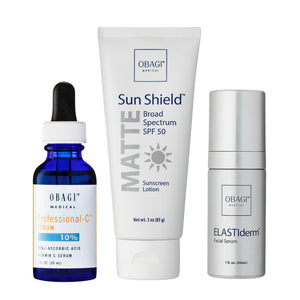 Products designed to help revitalize aging skin with clinically proven ingredients that provide real results. Our Anti-Aging Army does the job well! 


Professional-C Serum 10% is a potent antioxidant serum that helps defend against oxidative stress, resulting in brighter skin, minimizing the appearance of fine lines and wrinkles, and improving overall complexion. Sun Shield Broad-Spectrum SPF50 combines UVB absorption and UVA protection in an elegant, matte finish that is non-comedogenic and dermatologist-tested. ELASTIderm® Facial Serum with patented Bi-Mineral Contour Complex™ helps support skin elasticity so it can bounce back from the signs of skin aging, resulting in firmer-looking, more resilient skin.

Tip: It is best to consult with our board-certified dermatologist before starting or incorporating new product/s into your current skin care routine.
Inclusions
(1) Professional-C Serum 10% 30ml
(1) Sun Shield Broad-Spectrum SPF50 85g
(1) Elastiderm Facial Serum 30ml
Skin Type
Directions
Apply 5 to 7 drops to the face, neck and chest using fingertips.

Apply 2-3 pumps AM and PM to a clean dry face, neck and décolleté.
Sun Shield Matte Broad-Spectrum SPF50
Apply liberally to skin at least 30 minutes before any sun exposure.
FAQs
1. Do I get to save when I avail of the Anti-Aging Army Bundle?
Yes! You get to save P4,535 when you purchase this bundle.
2. Is this bundle safe for pregnant women or nursing moms?
Check with your physician regarding any topical products you wish to use during pregnancy or while you are nursing.
3. How do I know if this bundle is right for my skin type?
It is best to consult our board-certified dermatologist. He or she will be able to assess which product/s would be suitable to your skin concerns.
4. When can I expect to see results?
Give your skin time to adjust to the product, adjustment period usually takes about 4 to 6 weeks. Results may vary per individual. Your prescribed protocol and directions of use should be determined by your board-certified dermatologist.